NEMISA Datathon 2021 (Mpumalanga)
Fri, 26 Feb 2021 with Bab.la.pty (Oscar Khoza), Wamgtech (Wandile Magagula)
---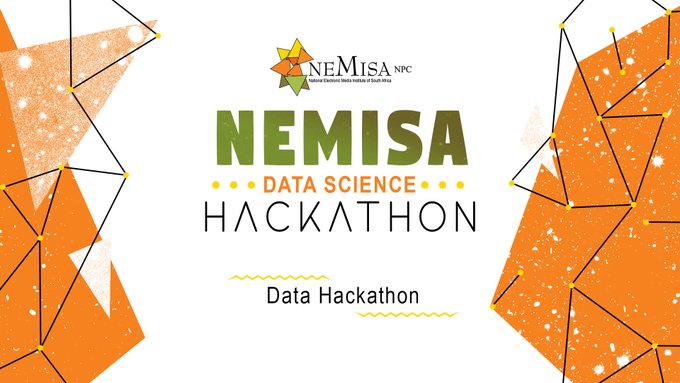 The NEMISA Data Science Hackathon challenges participants to engage with government data to unlock insights that could inform policy decisions. The hackathon is a collaborative multi-stakeholder partnership between provincial governments, institutions of higher learning, youth formations, digital technology experts and mentors in partnership with data science enthusiasts. In 2021, the hackathon was delivered virtually for the first time, with physical or virtual 'venues' in all nine provinces with each venue having mentors to support the hackers and judges to evaluate the proposed projects.
Geekulcha delivered the hackathon in Mpumalanga, with support from ground leads Bab.la.pty and Wamgtech. Mpumalanga was the province with the largest number of participants in the NEMISA Data Science Hackathon, with a total of 82 registrations and 15 teams.
The top three teams from each province were awarded cash prizes, and the winning team from each provincial hackathon competed for the number one spot in South Africa and a prize of R100 000 towards the development of their prototype. The winning digital solution in Mpumalanga was developed by Team Butter Hackers whose solution 'My Environment Monitor' was a real-time monitoring system designed to monitor the health and financial impact of air, ground and water pollution.and went on to represent Mpumalanga at the national finale.
Read More