What The Actual Hack
Written by Tshegofatso Mhiko on Wed, 05 Oct 2022 16:53PM
---
A hackathon is an event of any duration, usually between 12-72 hours, it's an event where people come together to solve problems. In the context of a hackathon, hacking is the development of a software or hardware solution. They are a place to learn, challenge yourself, network, meet investors, collaborate, and have fun.
Each hackathon varies and is unique to the needs. Some hackathons have a selection process where one needs to register, upon registration, you will be required to pitch, and from there teams that did well get selected and enrolled in an accelerator program. Others only require participants to register and show up on hack day.
Before hack day, hackathon organisers host a briefing to explain how the hackathon will work. Hackathons have themes such as cybersecurity, data mining, policy-making, entrepreneurship, etc. The hackathon challenges are sometimes shared before hackathon day and sometimes shared on the day of the hackathon. There are three main forms you can participate in a hackathon:
Physical Hackathon: Being at a physical venue and engaging with other participants in a conducive building setting
Virtual Hackathon: Code from home, everything is done online with conference calls or live streaming
Hybrid Hackathon: It is both a physical and virtual hackathon. Participants decide whether they will attend physically or virtually
Geekulcha has a platform called Sonke which assists with connecting with other participants, getting mentor assistance, profiling your team, getting resources, and the submission at the end of the hackathon.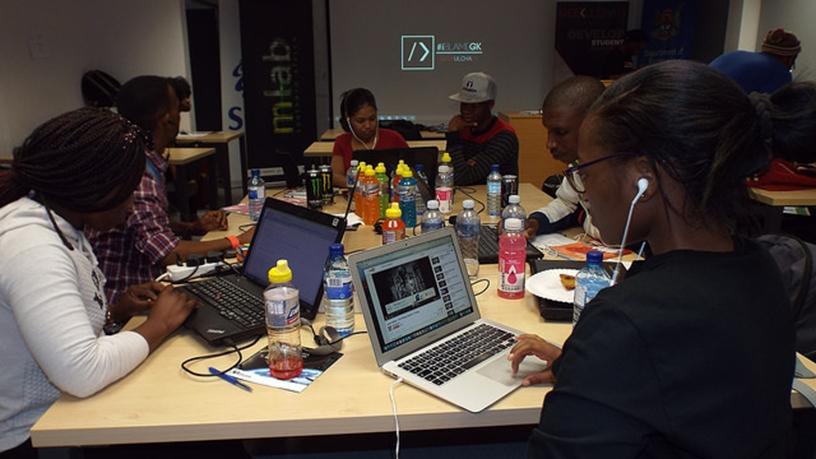 Hackathons are solution-oriented, and some may have prizes (which should not be the primary motivator). Some hackathons offer a cash prize, while some offer mentorship and incubation. Although they all differ, what remains constant is that the best solutions are recognised.
DID YOU KNOW? Kingsley Kgwedi, popularly known as a Skinny released the Geekulcha Hackathon anthem in 2015. The song gets played in almost all Geekulcha-facilitated hackathons in South Africa. Take a listen below.
Typically at a hackathon, one starts by confirming their presence, which is then followed by breakfast. After breakfast, the opening ceremony begins! The challenges are then broken down, and rules and the vision get shared as well. Once the opening is done, the hack away session starts. This is when teams go into their groups and start working on their solutions. Hackathons have mentors and each team gets assigned a mentor to provide guidance.
Geekulcha facilitated hackathons have something called Hackathon War Rooms. The teams face the "hackathon watchdogs" in different rooms to see if the team is still within the hackathon scope. There is also something called the midnight pitch where participants share a brief presentation of their solution and provide a status update of how close they are to completion.
Hackathons are a bowl of fun! They are a goldie locks type of event stressful but incredibly fun. The music is a 10/10. Geekulcha has something called the GKPlaylist where participants request songs. There are different spot prizes and challenges which drive interaction. Some hackathons have something called hackathon chillas, it's a session where participants get to have fun however they want. Be it listening to music, dancing, debating about games or series, or just chatting. Hackathons are sociable events where geeks get to connect with other geeks.
Here are 10 tips on how to win a hackathon:
Create a team with members with diverse backgrounds and skills

Do not jump straight to coding, spend time ideating and creating a solution that doesn't cause more problems

Split the team and share tasks

Think outside the box and create a killer feature (it's a feature that makes you stand out)

Create a prototype (judges want to see a working graphical solution when you present)

Align with your team members, its vital to be on the same page with your group members

Make sure your solution is impactful, it's understandable to the public, creative and sustainable

Align your solution with the judging criteria

Bear your target audience in mind when developing your solution

Don't try to look fancy, stick to what you know and use that to solve the problem
Are you ready to hack that solution? Be sure to follow @Geekulcha on all social media platforms to stay ahead and register for the next hackathon.
---