Meet Kingsley 'Skinny' Kgwedi - Geekulcha Crew
Written by Tiyani Nghonyama on Thu, 03 Feb 2022 05:37AM
---
If you've ever been to a hackathon with Geekulcha, you have probably heard a song that has the lyrics "we code for hours, no time for flowers" and simply gotten your tech bone dancing! That's the work of a young gent popularly known as Skinny!
For this edition of Meet The Geeks, we hang out with Skinny and learn more about him and his journey in tech.
Kingsley "Skinny" Kgwedi is part of the Geekulcha Systems Development Unit and specializes in Electronics, Web Development and AI Chat Bots. He went to Soshanguve Senior Secondary School. A self-taught programmer, he has completed some online courses to strengthen his career.
What inspired him to join the ICT field
Building Digital Solutions as he used to build electronic projects using junk materials. Skinny would reuse material to build robots.
Skinny with his robot built from junk during the Geekulcha Vacation Work programme in July 2014 at Geekulcha's workspace (mLabSA, at The Innovation Hub.)
His journey with Geekulcha
Skinny started his journey with Geekulcha when he met founders Mixo and Tiyani at a Careers Expo hosted at the Tshwane University of Technology in May of 2014. While there, he expressed great interest in technology and also 'dropped' some few lines of rap. Having been fascinated by his love of technology and having seen his robotics work, Mixo and Tiyani did the following:
Invited him to showcase his robots at the launch of the Ekasi Labs in Ga-Rankuwa
After the event in Ga-Rankuwa (same day), he was invited to a hackathon at the The Innovation Hub
The invited to a new programme for high scholars - the Geekulcha Vacatoin Work programme where his growth shaped off
Since then, Skinny has been a frequent hackathon participant. Because he couldn't go to university, Geekulcha decided to absorb him into the team so that could grow in the ICT sector. Soon after, he grow to become a developer at Geekulcha and also managed the Geekulcha Student Socity (GKSS) programme.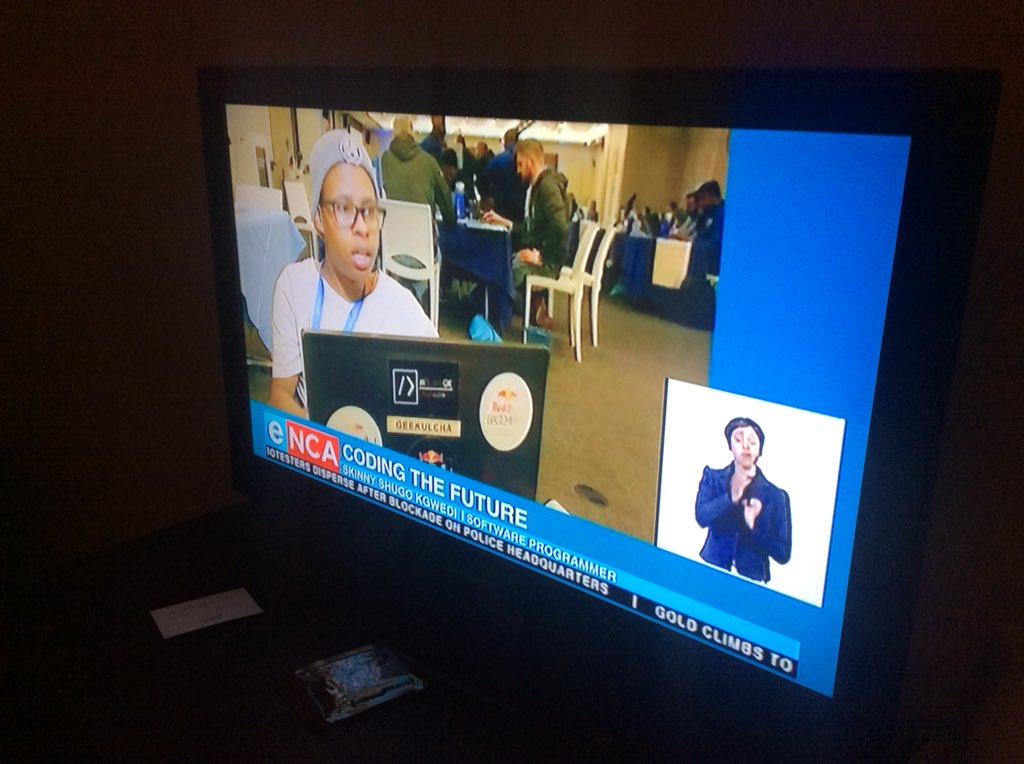 Combining Passions: Combining Music With Technology
His hobbies are playing online games and making music. In high school was known as MJ (as in Michael Jackson) because of this dance moves which still incorporates into his music. Skinny has performed in various events and mostly, at the tech based eevnts whether it was at the Vodacom Dome, MTN Hackathons, Telkom Global Entrepreneurship hackathons and many other hackathons.
His favourite Quote is 'If you can Think it, You can Google it and Make it'. He has delivered a lot of successful projects along his career.
On the side, he has his startup called Codename Dojo. Skinny also helps youth living with disabilities to learn technology and ultimately, how to code.
Light Moments At Geekulcha
Skinny has travelled to all 9 provinces of the country as one of the training facilitators or simply leading some of the Geekulcha programmes especially in marginalised communities. 
DID YOU KNOW? In 2018, Minister Ayanda Dlodlo of the Department of Public Service and Administration coded and built an application that launched the National Public Service Hackathon? Well, Skinny was her coding budy and coach in preparation of making this happen.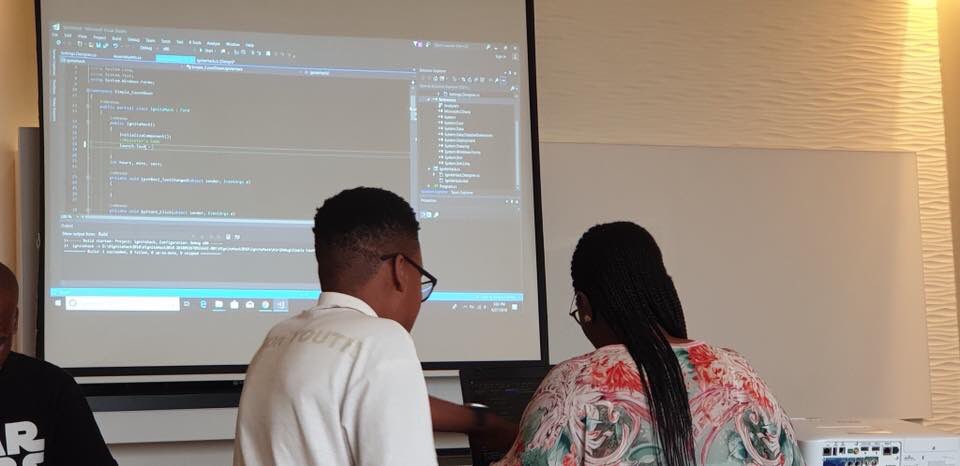 The application was built in C# and allowed the Minister to give a launch declaration method, determine hackathon hours and start off countdown to the hackathon. At the launch of the hackathon Minister Dlodlo coded this application, live ni front of about 300 Geeks. 
This geek is on a mission and Geekulcha commits to continue supporting his journey.
---